Catalog of Books Collection I
Japanese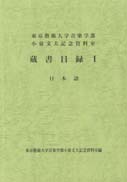 The list of 3,443 books written in Japanese (published on and after Meiji period) and
101 Japanese and Chinese classics held in the KOIZUMI Fumio Memorial Archives.




Catalog of Books Collection II
Chinese & Korean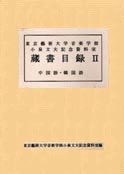 The list of 312 books written in Chinese and 85 books written in Korean.

---
Home
Chronological History of KOIZUMI Fumio
Publications by KOIZUMI Fumio
KOIZUMI Fumio Prize for Ethnomusicology
Catalog of the Musical Instrument Collection
Catalog of Books Collection
Open Reel Tape Database (mostly in Japanese)
Miscellaneous Materials Database (in Japanese)
Services, Hours & Maps

---
Contact Us (Please change * into @)
This page was updated on 27 Jun 2010
KOIZUMI Fumio Memorial Archives, All rights reserved.