051 gendèr barung
Image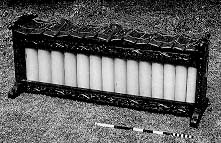 ( JPEG format )

---
Indonesia=Java
keys: 14, bronze; with tin resonator tubes ; L. 107.0cm
mallet: 2, wood ; range: Bb-f''; scale: slendro


A melody instrument used in gamelan ensembles. For the construction of the instrument and mallets see 050. This instrument has smaller keys and a wider tonal range than 050. The two mallets are also smaller. Played with one mallet held in each hand. The keys are damped with the palm and fingers of both hands.
---
[ << ]-- [ >> ]

[ Back to xylophones/metallophones ] [ Back to IDIOPHONES ]
[ Back to Top Menu ] [ Back to Contents ]