054 barangan gendèr wayang
Image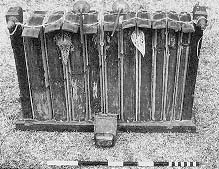 ( JPEG format )

---
Indonesia=Bali
keys: 10, bronze; with bamboo resonator tubes ; L. 80.0cm
mallet: 2, wood ; range: 2 oct. from f; scale: saih gendèr wayang


A supplementary instrument to the gendèr wayang. Used to play the same melody as the gendèr wayang one octave higher. This instrument is a pengumbang. See 052.
---
[ << ]-- [ >> ]

[ Back to xylophones/metallophones ] [ Back to IDIOPHONES ]
[ Back to Top Menu ] [ Back to Contents ]