233 pipa
Image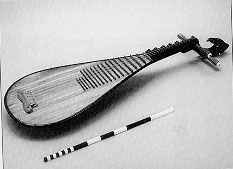 ( JPEG format )

---
China=Han
body: wood, paulownia surface; L.102.8cm
strings: 4, silk; frets: 24
range: A-a" : tuning : A-d-e-a


Held vertically supported by the left knee. Sounded with picks worn on the all five fingers of the right hand. There is a carving of a celebratory symbolic bat on the head of the instrument. Widely used in solo, ensemble, and narrative accompaniment styles.
---
[ << ]-- [ >> ]

[ Back to lutes ( plucked ) ] [ Back to CHORDOPHONES ]
[ Back to Top Menu ] [ Back to Contents ]