286 sarangi
Image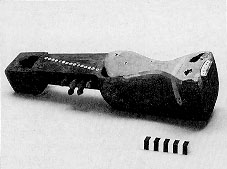 ( JPEG format )

---
India
body: wood, with goat skin over front face; L. 52.8cm
strings: 4, gut; sympathetic strings 15, steel


A surviving example of the old style sarangi of ca. 100-150 years ago. Compared to the modern sarangi this one has fewer resonating strings, and the waist of the body is deeper. Also called tota.
---
[ << ]-- [ >> ]

[ Back to lutes ( bowed ) ] [ Back to CHORDOPHONES ]
[ Back to Top Menu ] [ Back to Contents ]