295 kemençe
Image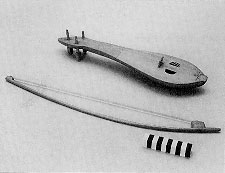 ( JPEG format )

---
Turkey
body: wood, with 2 semicirular soundholes; L.42.0cm
string: 3, nylon
range: 2 oct. and a 4th; tuning: d-g-d'


A fiddle with a short neck and a body of hollowed out wood covered with a thin a board. Placing the instrument upright on the knee, the player bows with the right hand, regulating the tension of the bow hair with his middle finger. Strings are not stopped by pressure from above, but rather by applying pressure to the sides with the nails. Used in classical music as well as in folk song accompaniment.
---
[ << ]-- [ >> ]

[ Back to lutes ( bowed ) ] [ Back to CHORDOPHONES ]
[ Back to Top Menu ] [ Back to Contents ]