302 shamisen
Image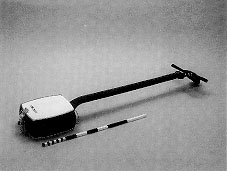 ( JPEG format )

---
Japan
plastic body, dog hide over front face; L. 99 cm
3 silk strings
range: a-a"; tuning: a-d'-a

A futozao ("thin-necked") shamisen used in accompanying folksong and various folk performing arts. This example is made of plastic for affordability and sturdiness. Manufactured by Fujimoto Nihon Minyo Kayo Gakuin ("Fujimoto Japanese Folk Music Academy").
---
[ << ]-- [ >> ]

[ Back to spike lutes ( plucked ) ] [ Back to CHORDOPHONES ]
[ Back to Top Menu ] [ Back to Contents ]