179 dagu
Image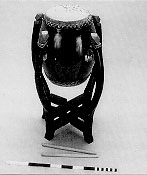 ( JPEG format )

---
Chine=Han
body: wood; L. 34.0cm
membranes: ox hide, Dm. 21.5cm
beaters: 2, wood


Also called tanggu. Four hooks attached to the center of the body are hooked onto the four supports of a stand, and the upper drumhead is struck with 2 beaters. Used in folk instrumental ensembles and in the accompaniment of traditional theater.
---
[ << ]-- [ >> ]

[ Back to tubular,barrel-shaped,hourglass-shaped drums(double-headed) ] [ Back to MEMBRANOPHONES ]
[ Back to Top Menu ] [ Back to Contents ]