207 azumaryū nigenkin
Image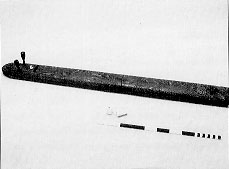 ( JPEG format )

---
Japan
body: cryptomeria,with 31 position markers; L.109.5cm
strings: 2, silk
range :e-a#''; tuning : e-e; scale;chromatic

A variant of yakumogoto. The player applies pressure to the fingerboard with an ivory tenkan (tube) placed on the middle finger of the left hand and plucks either one of two strings at a time with the nail of the right hand index finger. This instrument is a simplification of the yakumogoto devised in the early Meiji era by TōSHA Rosen for the purpose of accompanying zokkyoku and hauta, two popular song forms of the late Edo era. Also used in kabuki geza (offstage music). There is no board on the underside.
---
[ << ]-- [ >> ]

[ Back to tube zithers ] [ Back to CHORDOPHONES ]
[ Back to Top Menu ] [ Back to Contents ]