210 kulibit
Image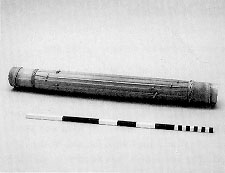 ( JPEG format )

---
Philippines(Luzon)=Kalinga
bamboo; L. 61.0cm
a slit in the tube functions as a soundhole
6 stringed idiochord


An idiochord tube zither. Narrow lengthwise cuts are made on the surface of a bamboo tube. A wedge is inserted under the cuts forming two strings out of the bamboo itself. The player holds the bamboo tube vertically in front of the body, supporting it with the palms of both hands. The thumb, middle and index fingers pluck the strings in alteration to produce short melodic ostinati.
---
[ << ]-- [ >> ]

[ Back to tube zithers ] [ Back to CHORDOPHONES ]
[ Back to Top Menu ] [ Back to Contents ]