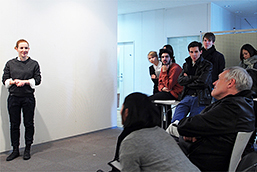 *Summary
While educational content does not depart dramatically from that of departments of architecture at other universities in Japan attached to engineering faculties, the Architecture Department's educational philosophy places a special emphasis on imparting architectural design skills. Courses of instruction are designed to broaden academic knowledge and cultivate deep, patient reasoning capabilities on the one hand, and to encourage the development of aesthetic acuity and an independent vision on the other. The goal is to develop individuals passionately engaged with architecture through training based on guidance in practical techniques on a one-on-one basis.
The curriculum is divided into specific areas of practical technique (architectural design) and specific topics of study.
First year: Various creative topics are addressed in an introduction to architectural design, including basic training in areas such as structural norms of architecture and related modes of expression. As an example, the design and building of chairs using wood is a traditional department subject, studied for over 40 years.
Second year: The first semester focuses on residential structures; the second semester addresses institutions of learning. Students proceed from a study of personal spaces to spaces designed for group activities. At the end of their second year, students study structural design as a foundation for realizing spaces and forms.
Third year: Based on the theme of spatial organization in architecture, topics of study shift toward meeting places and more complex structures. In addition, students look at the social nature of architecture from a broad perspective to identify the various ways in which architecture creates links and relations in the world. Selected instructors invited from outside the program add to this course of study. Travel to study ancient art, scheduled for the fall, offers an opportunity to look anew at traditional examples of Japanese architecture and the spatial structures they embody, prompting consideration of possible links to modern architectural expression.
Fourth year: At the start of this year, based on experiences from the first three years of the program, students turn toward senior projects while learning how to identify ideal forms for large-scale urban spaces – spaces on the scale of city blocks and beyond; how to plan a design development program; and how to choose among various approaches to presenting their proposals, among other topics. Students are then given preliminary assignments that serve as the starting points for thesis projects. They begin working on their thesis projects during the summer session, independently handling all aspects of their thesis projects, including establishing themes, conditions, and programs, refining their own ideas into feasible projects and devoting intensive work over an extended period of time.