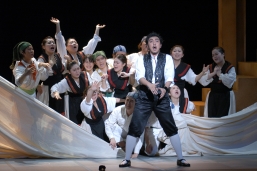 Educational and research structure
The program accepts up to 54 undergraduate students and 20 master's-degree graduate students each year. The doctoral program accepts two or three students each year. Lessons in practical vocal skills are led by 11 full-time and 14 part-time faculty. In addition, 28 part-time instructors and performance associates take part in classes and lessons offered by the Department of Vocal Music. Three educational research assistants provide support for student studies by handling department operations and administering sheet-music materials.
Curriculum (undergraduate education)
Based on one-on-one lessons in singing, a major foundation of the curriculum is choral practice (from the first through the third years of the undergraduate program), intended to improve student vocal technique and musical expression while honing ensemble skills. Required subjects include fundamentals of harmonics, solfege, and playing in instrumental music (including a general course in piano).
While basic of opera and opera works are also deemed important topics for vocalists, these subjects are not required, out of consideration for students majoring in solo performance. Students interested in choral performance and ensemble (chamber chorus) performance also enroll in vocal ensemble classes. In addition, students study two or more foreign languages, which are of special importance to vocalists.
From the master's degree program, students split into solo singing (song, oratorio) and opera majors based on specific characteristics of each student's voice. Undergraduates study both programs to help them grasp the specific characteristics of their own voice.
Curriculum (graduate education and research)
In contrast to undergraduate studies, in the master's and doctoral programs students choose from solo singing or opera vocal study. The solo singing major focuses on the study of song and oratorio; the opera major focuses on performing specific opera roles.
The master's degree program is generally completed in two years, and up to 20 students are accepted into the program. For the purposes of the entrance exam, prospective students are not separated by solo singing and opera majors. Instead, students select their concentration after passing the exam. Through one-on-one lessons by faculty specializing in practical vocal techniques, students pursue a specialized course of study consistent with their own major. In the special study in Vocal Music courses taken by students in both majors, students are free to select from a wide range of choices, including songs in Japanese, German, Italian, French, and English, as well as religious music, ensemble music, and operatic ensemble music (for solo singing majors). Many students take virtually all of the special studies courses. Intended primarily for opera majors, classes in opera works and opera works (Repertory) provide students with the practical experience they will need as professional opera singers. At the end of the program, students are assessed based on a thesis and performance, with passing students receiving master's degrees.
In the doctoral program, students with master's degrees pursue advanced independent studies, generally completing the program in three years. The path to the doctoral degree is narrow, with only two or three students accepted each year in the solo and opera majors collectively. As in the master's program, students progress by expanding their repertoires, guided by faculty advisers who provide specific guidance in practical vocal techniques. At the same time, students enhance their knowledge of foreign languages in preparation for thesis work – for example, studying works in the original language. The goal is to prepare a doctoral thesis based on research and analysis suited to performers, guided by their own performance experience. Students passing the final exam, which consists of both performance and a thesis, are awarded doctoral degrees in music.
Most students of the program are performers active beyond the university, testifying to the high capabilities of students in this program.
Other information
The university has concluded sister-school arrangements with numerous overseas universities and often engages in international exchange at both the student and faculty levels. Events include joint recitals between faculty in the university's Department of Vocal Music and those at the Central Conservatory of Music in Beijing, China, with recitals alternating between the institutions each year. Solid ties have been established between students at the university and South Korea's National Music Academy through joint recitals.
The university has exchanged students with Austria's University of Music and Performing Arts in Vienna to perform Mozart's opera "Così fan tutte," a joint opera performance which students found particularly inspiring. In addition, the master's program in the Department of Vocal Music accepts outstanding overseas students, offering entrance exams for these students each year. Many international students come from China and South Korea, and the program has also accepted students from Venezuela.
Many graduates of the undergraduate program in the Department of Vocal Music take educational courses to acquire teaching credentials. These graduates often work as educators at institutions, including middle and high schools. Some 10% of graduates advance to graduate school for further study. Many of those completing the graduate school programs are active vocalists or opera singers in Japan and around the world – evidence of the very high level of study at the university.