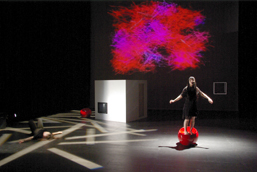 Educational and research structure
The department features five studios, each assigned its own area of specialization. In work based on individually chosen Projects, students develop diverse values and sensibilities while learning the fundamentals of music theory. In addition, while the program does not provide full-fledged practical training in artistic fields adjacent to the field of music, students do learn new methodologies and historical concepts and consider various nodes of expression from the perspectives of both the creator and the audience. They also gain fundamental knowledge and real-world approaches to various cultural contexts and gain experience with actual art management. To integrate these various areas, students take part in a wide range of activities, including practical training in media and technology, audio experience in studios and concert halls, and content creation. Typical classes address music and technology, cultural environmental theory, introduction to recording technologies, physical art theory, and cultural studies, all taught by full-time faculty.
Curriculum (undergraduate education)
Projects are divided into practical seminars in one of five different areas. Each student selects one of these. In the Project chosen, the student identifies his or her own area of expertise, then works to deepen understanding and knowledge across a wide range of other fields by attending other classes and programs of exercises. Students are permitted to select a different Project in their second and third years. Students can also attend classes in special basic topics, foreign languages, educational subjects, and practical techniques for their minor subjects at the Ueno Campus.
Each December, second- and third-year students plan the Senju Art Path program, which is open to the public. This program is intended to provide experience with the ins and outs of exhibiting work to the public and with event management. Students present thesis projects at the end of the fourth year.
Other information
Following graduation, students have been employed across a wide range of areas, including at NHK (audio design, reporter for NHK Kochi); TIS (systems consultant); Specified Nonprofit Corporation Ku Na'uka Theatre Company (stage performance); music production companies; the Japan Foundation for Regional Art Activities; art museums (Naoshima Fukutake Art Museum Foundation); and the Sai-no-Kuni Saitama Arts Theater.
Graduates choosing to continue their studies have gone on to pursue advanced studies in the university's Department of Musicology and Music Studies (Creativity of Music and Sound/Creativity of Arts and the Environment) as well as the graduate schools of the University of Tokyo, Yokohama National University, and the Institute of Advanced Media Arts and Sciences (IAMAS). Numerous graduates have also advanced to other institutions, including overseas universities. The department actively seeks out international students.