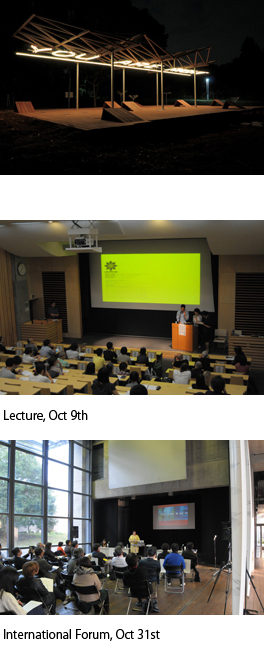 Summary:
Tokyo University of the Arts undertook the "Educational Project for Emerging Artists to Create Culture in the Next Generation 2013," inviting the distinguished experts from abroad to hold lecture, workshop and international forum.
Alejandro Haiek, Venezuelan architect and artist was invited to conduct the workshop entitled "DERIVED TECHNOLOGY: BETWEEN ART AND DESIGN -from Handicraft to High Technology" from August to October 2013 at Toride Campus, Tokyo University of the Arts. Haiek intervenes in the urban environment, that faces critical situations, creating public spaces by sharing the revelations, knowledge, and experiences that arise from the process of such discussions. He has been attracting international attention for his artistic practice that speaks a critical language, advances methodology. Haiek introduced his grand vision, which regards social practice as a new "Public Machinery" that drives the rebuilding of the urban environment and the social system.
Since 2002 Haiek had held workshops on the theme of "Derived Technology" to construct "Pavilion" that cut across architecture, art and design at several universities in Latin America and he developed them to a new version for the emerging artists, major participants of this project in Japan. For the workshop, Haiek proposed AIR ROOF as a structure of "Pavilion" for the emerging artists to work with. He also introduced his three stages of working methodology; in the first stage Haiek dismantled the foundations of a building – surface, covering, pavement, structure – as an individual element. Second, a reduced-size prototype was built using industrial or traditional, and next generation tools, CNC, re-assembling and synthesizing the elements. In the final stage, the overall planning was considered and a full-scale design, fabrication, and assembly were executed.
The emerging artists then explored its relationship with the environment and the potential of the materials in order to produce a space in which individual works interact with each other-rather than blending into the space and context – and create loose catabolic reactions as a whole. Through the exhibition and test demonstration it was confirmed that the pavilion would increase its appeal when the audiences actually experienced.
Moreover, Haiek, and two international curators, Mary Jane Jacob and Yuko Hasegawa were invited to the International Forum: "Social Practice in Contemporary Art," in conjunction with the presentation of the workshop outcomes on October 31. The Pavilion is still exhibited as a part of the testing demonstration period.