The Dust of the World, Washed by Droplets of Dew
2018.08.27 | ALL, EVENT
Granted by the Japanese Ministry of Education, Culture, Sports, Science and Technology (MEXT) through its Program for Enforcing the Function of National Universities
International Joint Project between Tokyo University of the Arts and the School of the Art Institute of Chicago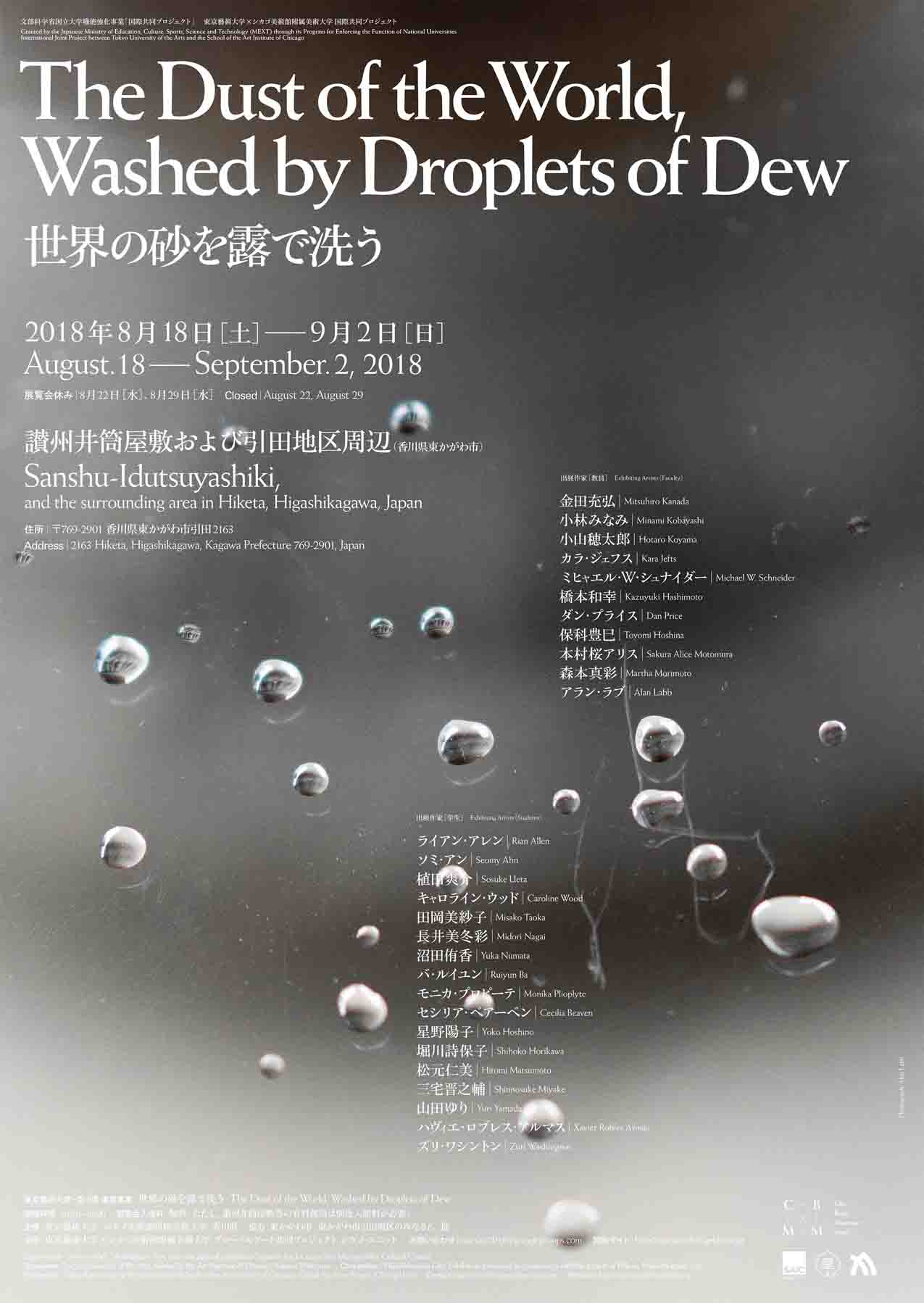 This year 2018, marks a continuation of the partnership projects fostered by Tokyo University of the Arts and Kagawa Prefecture since 2001. Using the area of Hiketa, Higashikagawa City as a stage, 28 artists based in Japan and America, each possessing their own different cultural backgrounds, have interpreted the theme of "City and Country" to produce the artwork on display in this exhibition. Considering the relationship between universality and the coexistence of region-specific cultures, these artists have reflected upon their own concepts of locality to seek out unique aspects in both locations, focusing on the social applications of contemporary artistic practices.
Through research work conducted in the city of Chicago and the regional town of Hiketa, Higashikagawa City, these artists have explored new potentialities for communication between people and nature, which they have expressed in the diverse artworks on display in this exhibition.
About the Global Art Joint Project 2018
The Global Art Joint Project of the Graduate School of Fine Arts, Tokyo University of the Arts was established in 2015, in collaboration with the world's top art institutions: the École Nationale Supérieure des Beaux-Arts de Paris; Central Saint Martins, University of the Arts London; and the School of Art Institute of Chicago. The Global Art Joint courses are comprised of three units including instructors, assistants, and students from the field of fine arts who together work on art projects based in various countries across the world. The Global Art Joint curriculum offers courses jointly with students from the above-mentioned institutions with an emphasis on social arts practice (the practice of contemporary art in society).
In the joint classes instructors and students travel between Japan and Chicago, where they collaborate with their counterparts from top overseas institutions to carry out artistic research drawn from a variety of perspectives. As part of a socially-engaged art program, they will participate collaboratively in fieldwork, workshops, and site-specific art production. The resulting artworks are exhibited at international exhibitions.
Exhibiting Artists
[Faculty]
Minami Kobayashi
Hotaro Koyama
Kara Jefts
Michael W. Schneider
Kazuyuki Hashimoto
Dan Price
Toyomi Hoshina
Sakura Alice Motomura
Martha Morimoto
Alan Labb
[Students]
Rian Allen
Seomy Ahn
Sosuke Ueta
Caroline Wood
Misako Taoka
Midori Nagai
Yuka Numata
Ruiyun Ba
Monika Plioplyte
Cecilia Beaven
Yoko Hoshino
Shihoko Horikawa
Hitomi Matsumoto
Shinnosuke Miyake
Yuri Yamada
Xavier Robles Armas
Zuri Washington
Period
August 18 – September 2, 2018
closed: August 22, August 29
Open hours
10:00am-4:00pm
Admission 
Free entry for general exhibition (Separate fee for entry into Idutsuyashiki, Cultural Center)
Exhibition site

Sanshu-Idutsuyashiki, and the surrounding area in Hiketa, Higashikagawa

Address:
2163 Hiketa, Higashikagawa, Kagawa Prefecture 769-2901, Japan

Access

JR Koutoku Line, Hiketa Station – 10min. walk
Takamatsu  Airport – 60 min. drive
Hiketa highway exit – 5 min. drive

Organizers
Tokyo University of the Arts, School of the Art Institute of Chicago, Kagawa Prefecture
Cooperation
Higashikagawa City, Exhibition produced in cooperation with the people of Hiketa, Higashikagawa city.
Planned by
Tokyo University of the Arts and the School of the Art Institute of Chicago, Global Art Joint Project, Chicago Unit
Contact
tua-saic2018@googlegroups.com
Web Site
http://tua-saic2018.geidai.ac.jp